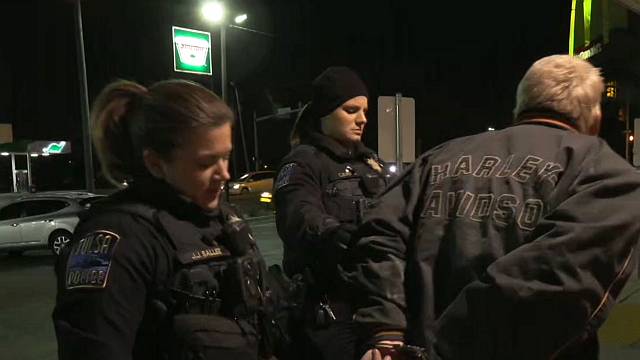 Live PD – 12.14.19
Season 4, Episode 27
Aired on: December 14, 2019 | Duration: 2h 0m 38s
Dan Abrams, Tom Morris Jr, and Sean "Sticks" Larkin are in the studio. This was the last Live PD episode of 2019. Live shows resume January 3rd, 2020.
Highlights
Terre Haute – Travis Clements responds to a call of shots fired. He finds a bullet was shot into the front of a house and through a couch.
Richland – Danny Brown joins in the search for a fleeing car. Other officers searched the area for a suspect with warrants.
Tulsa – Cassie Moore arrests someone for public intoxication.
Berkeley – Officer Clark pursues a fleeing car. K-9 Fox runs the suspect down and detains him.
Missoula – A snowstorm leads to a rolled over 18-wheeler on the highway. Captain Burt responds.
Terre Haute – A traffic stop turns into something completely different. Officer Plasse becomes involved in an escalating situation with an entire family.
Missoula – A man is arrested at a hotel, naked and drunk in a hallway.
Departments & Officers