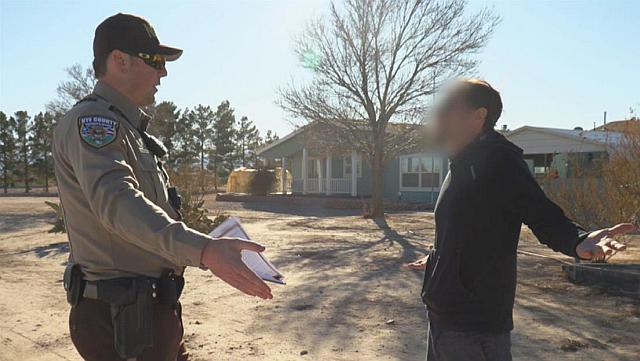 Live PD – 02.01.20
Season 4, Episode 37
Aired on: Saturday, February 1st, 2020 | Duration: 2h 0m 38s
Dan Abrams, Tom Morris Jr, and Sean "Sticks" Larsons are in the studio. This episode is the Saturday before Super Bowl 2020, and there's a lot of predictions with the officers.
Live PD – 02.01.20 Departments & Officers
Highlights
Tulsa – Officer Ross responds to a fight in the street. He finds a shirtless man that appears drunk.
Lawrence – Officer Kingery asks a man to leave a hotel. The female in the room has a warrant.
Tallahassee – Officer Hill responds to a domestic disturbance between a man and his baby momma.
Terre Haute – Officer Jones comes back to the same house as Friday about a noise complaint. No fire tonight.
Berkeley – Corporal Zubkoff questions a man in a parking lot.
Pomona – Officer Nguyen and Wilson pursue a car, the passenger bails on foot. The driver eventually stops and is taken into custody.
Tulsa – Officer Hyman stops a stolen truck at gunpoint.
Berkeley – Deputy Dreyton responds to a dead deer is placed on a man's front steps.
Berkeley – Corporal Zubkoff performs a traffic stop and talks about Bad Boys For Life, no spoilers.
Pomona – Officer Erfan responds to a car accident and potential shooting. They continue investigating the shooting with other officers.
Berkeley – Corporal Zubkoff stops a car for evading. The driver is a frequent flyer that is a sovereign citizen. Corporal Whetstone assists with the stop.
Nye – Neighbors get into an argument and one of them gets punched.
Nye – Sergeant Fowles and other deputies responded to a man who called 911 threating suicide.
Tulsa – Officer Ross runs off some younger guys from a QT parking lot.
Pomona – Officer Erfan helps a woman that was stabbed.
Tallahassee – A man is hit by a car crossing the street.
Bradford – Master Deputy Swagerty pulls over a car for high beams, and it's his aunt.