In this video from Live PD - 03.07.20, Officers Nguyen and Officer Wilson with the Pomona Police Department attempt to stop a motorcycle.
This is a special 1 hour edition of Live PD caused by the Corona Virus. Dan, Tom, and Sticks are live from their homes....
Live PD - 01.24.20 Season 4, Episode 34Aired on: Friday, January 24th, 2020 | Duration: 2h 0m 38sDan Abrams, Tom Morris Jr, and Sean "Sticks"...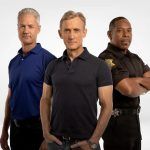 On Patrol: Live - Season 1