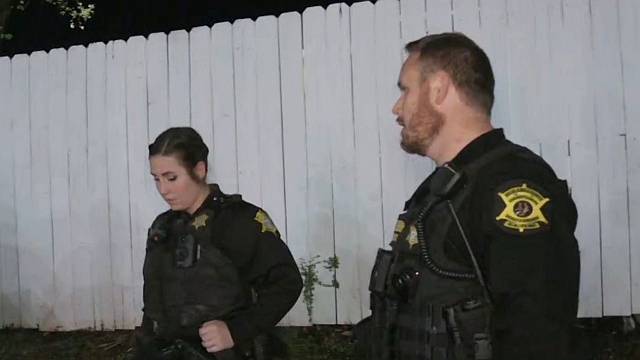 Live PD – 03.07.20
Season 4, Episode 47
Aired on: Saturday, March 7th, 2020 | Duration: 2h 0m 38s
Dan Abrams, Tom Morris Jr, and Sean "Sticks" Larkin are in the studio. Corporal Deanna Marshall and Corporal Brandon Sunday from the Jefferson County Sheriff's Department are in the studio.
Live PD – 03.07.20 Departments & Officers
Highlights
Lawrence – Captain Cantrell pursues a car that refuses to stop. The driver says she is trying to get home to stop a crazy daughter-in-law.
Nye – Lt. McRae deals with a fistfight between neighbors.
Tallahassee – Officer Hill responds to a robbery and shooting. Two men are shot in a park. Officers provide medical support and search for the scene of the crime.
Richland – Corporal Walmsley responds to a home invasion. A boyfriend kicked the front door in.
Volusia – Deputy Charles is serving a felony warrant.
Pomona – Sergeant Medellin and Officer Nguyen stop a motorcycle for running a stop sign.
Nye – Lt. McRae stops an El Camino regarding a disturbance at a bar.
Berkeley – Corporal Zubkoff chases a man with a knife. He had already stabbed someone.
Volusia – Deputy James stops a car that didn't yield for emergency vehicles.
Lawrence – Officer Agresta detains a suspect in a parking lot for huffing.
Richland – Corporal Walmsley and other deputies chase a Mustang doing 110 mph. They catch up to it after it crashes into parked cars.
Richland – Master Deputy Hughes is searching a construction site for intruders.
Pomona – Medellin and Nguyen respond to possible robbery at a cell phone store.
Tallahassee – Officer Hill pulls over some college students that were hanging out of a car.