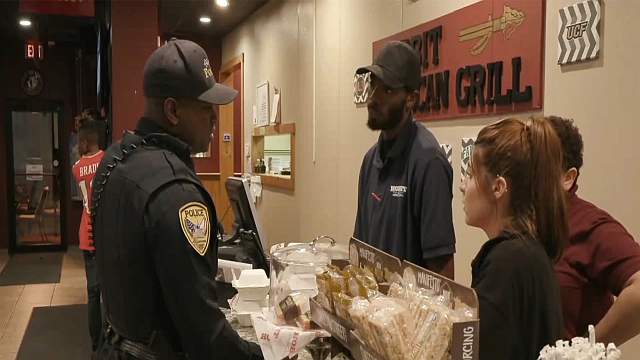 Live PD – 01.04.20
Season 4, Episode 31
Aired on: Saturday, January 4, 2020 | Duration: 2h 0m 38s
Dan Abrams, Tom Morris Jr, and Sean "Sticks" Larkin are in the studio. Officer Tappan from the Alpharetta Police Department and K-9 Mattis join them in studio.
Departments & Officers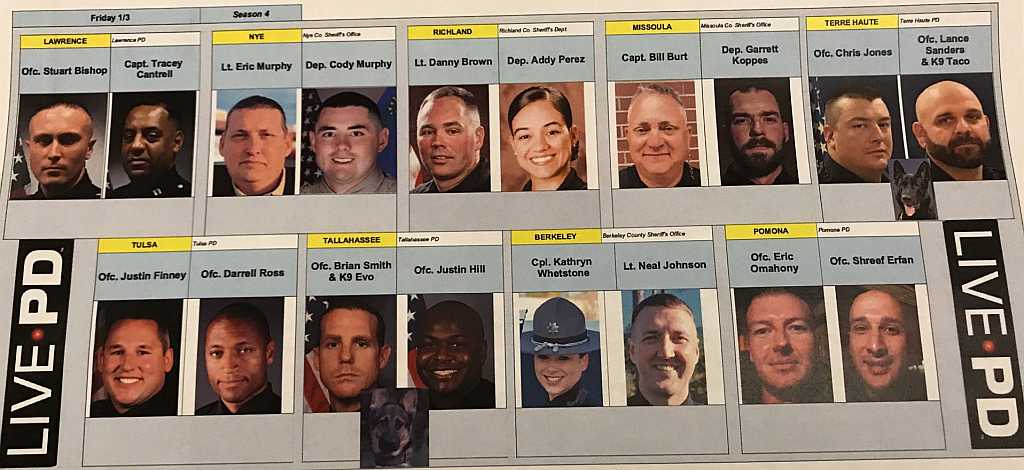 Highlights
Pomona – Officer Erfan is responding to shots fired. Officers continue to investigate and later in the show surround a house and pull out suspects from the house. Officer Omahony joins the house clearing.
Tallahassee – Officer Hill responds to an altercation at an all you can eat buffet. We all know that you can not take home food from the buffet.
Berkeley – Corporal Whetstone pulls over a car and detects marijuana.
Lawrence – Officer Bishop pursues a car and then chases the suspect on foot. He catches him at gunpoint.
Berkeley – Officer Whetstone investigates the report of a break-in at a business.
Richland – While Chris Blanding is questioning an armed robbery suspect, he makes a run for it. Blanding and Laureano chase him down and pull him off a fence.
Lawrence – Officers and paramedics respond to an overdose in a Walmart parking lot.
Tallahassee – Officer Hill investigates unwanted kissing at a bar.
Terre Haute – Officer Laudermilk respond to a 911 hangup.
Lawrence – Officer Kingery stops a mechanic that is driving his customer's car.
Pomona – Officer Omahony questions a known gang member that's on parole. They find a bullet in his bag.
Pomona – Elsewhere in Pomona, Officer Shreef attempts to question a man at a traffic stop.
Tallahassee – Officers break up a game of manhunt.
Berkeley – Officer Green encounters a very suspicious man behind a building.