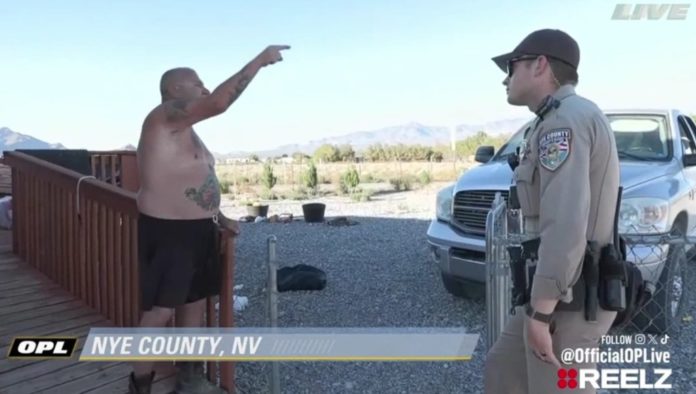 During the 10.06.23 episode, Deputy Nicholas Huggins, with the Nye County Sheriff's Office, responded to a dispute between a father and son over a Wi-Fi password. That situation escalated over the weekend. On Sunday, Nye County Sheriff Joe McGill reported that a suspect was shot and killed by a deputy on Sunday afternoon. The suspect was identified as John Beaudoin, 67, of Pahrump. This was the father that appeared on the show Friday evening.
Deputies were dispatched to Beaudoin's residence just before 5 p.m. on Oct. 8 following reports of a family disturbance there. According to sheriff's office reports, it was one of many responses to the home in the past several months. Dispatchers learned from a family member that Beaudoin allegedly possessed two firearms despite being a convicted felon and unable to have guns legally. When Nye County Deputy Nicholas Huggins arrived, the officer found Beaudoin on the porch with a gun and tried to persuade the man to relinquish his firearms, including the Ruger .357 Magnum handgun that Beaudoin held to his head, while he negotiated with dispatchers.
Not going back to Jail
"I'm on Bunarch Road, and Deputy Meyers said that he's going to come and get me. But to tell you the truth, I'm going to kill myself before I go outside," Beaudoin reportedly told dispatchers before he again threatened suicide. "I'm John Beaudoin. I didn't do nothing wrong, but I'm going to kill myself before I go outside. I'm not going to jail again. You guys can have all of the s**t that I got. I don't care no more."
Attempted Negotiations
McGill said that SWAT negotiators were then dispatched to the scene. "Negotiators were able to have the suspect surrender a shotgun, but he refused to surrender the handgun that he held to his head while interacting with NCSO personnel," McGill said. "While on the porch, the suspect challenged the deputies to shoot him multiple times."
Attempt to Apprehend
After several hours, McGill said the decision was made to apprehend Beaudoin by less-than-lethal means, which included a 12-gauge shotgun loaded with bean bag rounds and a 40-mm launcher loaded with an impact round.
"Five less-lethal rounds were fired, where three of those rounds were confirmed to have struck the suspect," according to McGill. "The less-lethal rounds proved to be ineffective, and Beaudoin retreated back inside the residence."
Fatal shots Fired
McGill said Beaudoin was seen raising his firearm and aiming it towards Huggins. "Deputy Huggins fired his weapon four times, striking the suspect three times in the torso," according to McGill. Shortly after the shots were fired, deputies and detectives entered the residence and declared Beaudoin dead.
The Scene
"In the immediate area of the suspect was the Ruger .357 Magnum revolver he previously had been holding to his head, loaded with live ammunition," McGill said. "Had the suspect survived, he would have been charged with two counts of being a prohibited person in possession of a firearm, aiming or discharging a firearm, and resisting a peace officer with a weapon."
Officer on leave
Deputy Huggins, who was hired in March of 2021, was placed on paid administrative leave after the shooting, which is standard department procedure. At the conclusion of the preliminary investigation, the case will be turned over to the Nye County District Attorney's office for review, according to McGill.