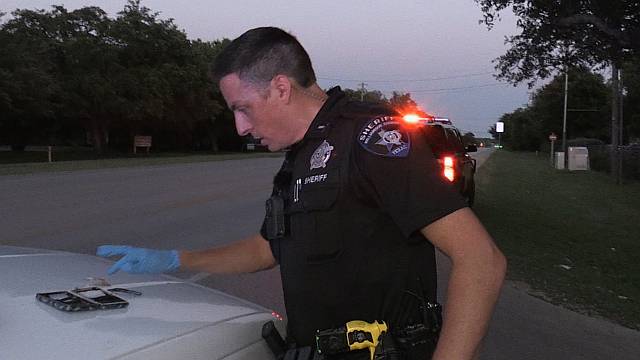 Tom Morris Jr. hosts a countdown of the Top 40 Live PD Moments in 2019.
20. Richland – Mark Laureano and Addy Perez witnesses a hit and run in front of them and chases down the suspect.
19. Williamson – Grayson Kennedy stops a truck and then runs down a fleeing passenger.
18. Oklahoma – A passenger runs when the trooper tries to cuff him. The trooper has to choose between the driver and the passenger.
17. Lawrence – Officer Bishop chases a car full of cars and ends up catching one on foot.
16. Greene – Corporal Flora stops a moped and the driver ends up running until the deputy catches him.
15. Williamson – Deputies stopped a truck with bad plates. They conduct a felony traffic stop on the driver.
14. Oklahoma – Troopers chase a drunk driver with a rotten tooth.
13. Pasco – Deputy Mitch Bollenbacher responded to a fight. He struck in the head and the attacker is tased.
12. Warwick – Officer Jill Marshall stops a car with an inappropriate drawing on the back.
11. Williamson – Deputies respond to a fight in progress and a car almost runs them over and then hits their car.
10. Williamson – Deputies are chasing a motorcycle and the motorcycle crashes sending the driver flying end over end.
9. Tulsa – Officer Darrell Ross talks to a Vietnam veteran about his brother's experience.
8. Pasco – Deputy Nick Carmack and his K-9 hunts down a suspect that fled on foot.
7. Oklahoma – Trooper Flores pursues a fleeing car on the interstate with speeds that go over 120 MPH. Eventually, the trooper performs a PIT/TVI maneuver on the car.
6. Warwick – Sergeant Curley responds to a domestic disturbance. The suspect resists arrest and fights officers.
5. Franklin – A dog falls into a frozen pond and deputies rescue the dog from the frigid waters. The dog, Jake, turned out just fine.
4. Richland – Deputies chase a dune buggy through neighborhoods.
3. Salinas – Mike Muscutt responds to an RV that hit a tree and fire hydrant.
2. Greene – A woman locks herself out of a truck and it drives off. After unlocking the truck they find meth.
Richland – Deputies respond to a bank robbery and chase the car. The robbers come out of the car when cornered and shoot at deputies.