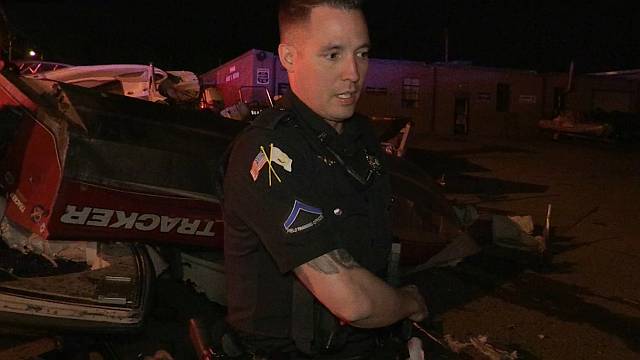 Tom Morris Jr. hosts a countdown of the Top 40 Live PD Moments in 2019.
40. Salinas – Officer Mike Muscutt pursues a stolen car. Officer Cameron Mitchell attempts to pit the car and crashes into the median.
39. Warwick – In May, a driver crashes his car into parked boats. The car is completely destroyed. Firefighters have to cut the roof off.
38. Lawrence – Officer Charlie Kingery gets into a foot chase with a suspect. Officer Bishop catches up to provide support. The suspect was holding a stolen gun.
37. Greene – Officer AJ McCall is on a traffic stop when a wanted car speeds past him.
36. Oklahoma – Trooper Micah Freeman stops a motorized bicycle, which tries to flee.
35. Williamson – Mark Luera helps a lost wrong-way driver.
34. Salinas – Cameron Mitchel responds to a bad accident caused by street racing.
33. Greene – Deputy Kyle Winchell finds a stolen vehicle. During the pursuit, he uses a StarChase to track the car and catch the thieves.
32. Lawrence – Stuart Bishop responds to a family fistfight.
31. Warwick – An intoxicated woman in a basement screams for her bottle and officers drag her away.
30. Oklahoma – Trooper Callicoat chases bikers.
29. Franklin – A window tint violation leads to a search of the car, but all they find are Girl Scout cookies.
28. East Providence – Officers detain a suspect that refused to stop. The driver is in possession of a lot of drugs.
27. Greene – Officers pursue a fleeing truck that wrecks out multiple times.
26. Lawrence – A disturbance between two roommates over a cat.
25. Oklahoma – Trooper Ryan Smith pursues a reckless truck and makes an arrest for DUI.
24. Williamson – An extremely intoxicated driver is pulled over on her birthday.
23. Salinas – Officer Muscutt responds to an auto accident involving a semi vs. motorcycle.
22. Lawrence – Officer Adam Hazelwood pursues a fleeing car for miles until the driver crashes.
21. Greene – The driver of a mustang takes off during a traffic stop and drags a deputy, he's later arrested.