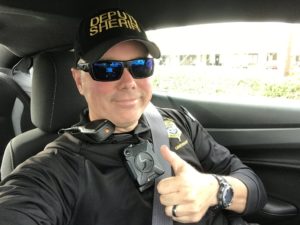 Danny Brown is a Captain in the Richland County Sheriff's Department. Danny is a Community Action Team (CAT) member, along with Senior Deputy Garo Brown. He was a native of Little Rock, Arkansas. Prior to joining the Sheriff's Office, Danny was an actively deployed member of the U.S. Army. In the Army, he was stationed at Fort Jackson in South Carolina as a military police officer. In 2000 he joined the Richland County Sheriff's Office as a deputy.
One of Danny's favorite scenes from Live PD is an episode where he ends up crashing a brand new department-issued Chevrolet Tahoe. This is later replaced with a special issue Camaro. In a 2018 interview with the State, Danny Brown describes how he was almost killed by the suspect's family during a foot pursuit with a suspect. He was saved by a civilian that stepped in and helped Danny.
Danny Brown participated in the first On Patrol: Live Citizens Ride Along in September 2022.
Danny Brown is active on Twitter, and his handle is @thundacat830. In July 2022, Brown revealed that he would be returning with On Patrol: Live.
Danny Brown Clips