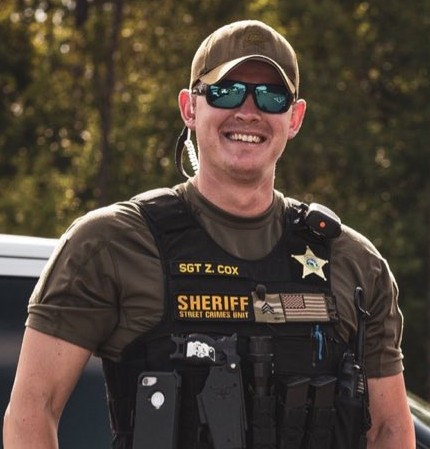 Sergeant Zach Cox is an officer with the Clay County Sheriff's Office in Florida. Sergeant Cox is part of the Street Crimes Unit. He first appeared on Live PD during Season 4.
Sergeant Cox grew up in the Jacksonville suburb of Green Cove Springs and graduated from Clay County High School. Cox worked as a civilian control room operator in the Clay County jail. At age 19, Cox was the first recipient of the Detective Dave White Law Enforcement Scholarship to attend St. Johns River State College's Basic Law Enforcement Academy.
When Sergeant Cox was 12, he joined the Junior Cadet Program of Sheriff's Office Explorer Post 987. He worked his way up through the ranks to retire as a major in the Explorer post. Cox began volunteering with the Sheriff's Office in 2010. In 2011, Cox was hired in the records division and then went to work in the jail because its schedule accommodated his college classes.