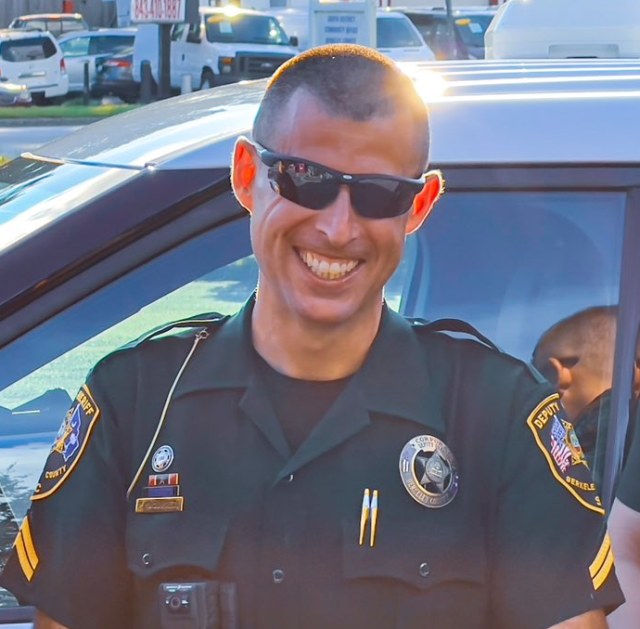 Deputy Paul Yacobozzi is a corporal in the Uniform Patrol Division with Berkeley County Sheriff's Office in South Carolina.
Cpl. Yacobozzi was born in Scotland and moved to the United States with his family when he was three. He graduated from Erie McDowell High School in 2001 and studied at Mercyhurst University. He graduated in 2005 with a degree in Criminal Justice. Cpl. Yacobozzi began his career in law enforcement in 2008, working with the North Charleston Police Department in South Carolina. Yacobozzi was assigned to Patrol and the Traffic Unit. In 2011 Yacobozzi began working for the South Carolina Highway Patrol as part of Troop 6 and served the Charleston and Berkeley region. In 2020 Corporal Yacobozzi joined the Berkeley County Sheriff's Office.
In addition to his work as a deputy sheriff, he is also a Captain with the Whitesville Fire Department. Corporal Yacobozzi is currently a South Carolina Criminal Justice Academy Instructor for Driving, Speed Measurement Device, and DUI SFST. He is also a Certified AXON Taser Instructor and a Pursuit Intervention Technique Instructor.
Corporal Yacobozzi has been awarded Trooper of the Year (Troop 6) three times, VFW Trooper of the Year two times, Officer of the Month for NCPD two times, and Trooper of the Quarter for Troop 6 two times. Paul Yacobozzi has dual citizenship in Scotland and the United States. He is married and a father to two boys. Yacobozzi has been playing ice hockey since he was three years old, and plays with the Charleston Enforcers Ice Hockey Team.
When asked about why he began a career in law enforcement: "Growing up I always held police officers in high regard and was taught as a little boy that police officers are there to help you. I have always believed in that." Corporal P. Yacobozzi stated. "When I was first sworn in, I always kept the mentality of I am here to help through service and integrity."