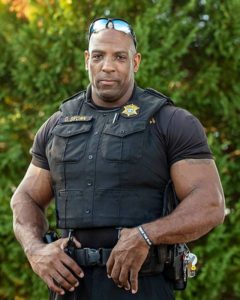 Sergeant Garo Brown was born and raised in Amityville NY. Garo moved to Columbia, SC in 1999. When he was in his 20s, the events of 9/11 heavily impacted him, and he knew that he would either go into the military or law enforcement. Garo ended up choosing law enforcement. In an interview with A&E, he described the decision this way, "I was trying to show there are people who will run into a building where someone's shooting, in order to save people they don't know. There are people like that out there. I wanted to be one of them." He started his law enforcement career by attending the South Carolina Criminal Justice Academy. Garo earned a distinguished graduate award at the SCCJA and graduated as a class 1 officer in April of 2000. Deputy Brown is currently pursuing an advanced degree in computer technology.
Garo Brown is currently a Sergeant in the Richland County Sheriff's Department. Garo is a member of the Community Action Team (CAT). The CAT team uses a proactive approach to law enforcement instead of a reactive approach. Garo enjoys getting out in the community and speaking with citizens. His favorite part of the job is giving presentations on current issues to the community members.
Garo is 6'4" tall and weighs in at 260lbs. He has been featured in Live PD Season 2 and Season 3. Garo Brown was an in-studio guest host during the 04.12.19 and 04.13.19 episodes of Season 3. His favorite Live PD moment is when he caught a guy with a gun and drugs, and the suspect claimed to have a "license" for the gun (see below for that clip).
In December 2019, Richland County announced that Deputy Brown was promoted to Investigator and will no longer be on Live PD. His last episode was 12.13.19. Deputy Brown was then later promoted to Sergeant and was part of the On Patrol: Live premier in 2022.