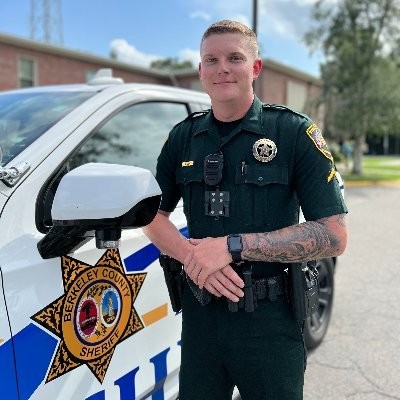 Deputy Dylan Lee is an officer with the Berkeley County Sheriff's Office in South Carolina. Deputy Lee was first featured in On Patrol: Live Season 1. Deputy Lee is an Orangeburg native raised in Springfield, South Carolina. He graduated from Hunter Kinard Tyler High School in 2015 and then graduated in 2017 from Orangeburg-Calhoun Technical College with an Associate's Degree in Criminal Justice.
Deputy Lee was a volunteer firefighter for Orangeburg, SC, for five years. Lee joined the Orangeburg County Sheriff's Office in 2018. There he was a SWAT team member and bloodhound handler. During his time at OCSO, he gained the rank of Corporal. In 2021, Deputy Lee joined the Berkeley County Sheriff's Office. Deputy Lee recently completed a course with the Law Enforcement Bicycle Association and serves on BCSO's Bike Patrol.
When he is not working, Deputy Lee loves to hang out with his friends, go out on the lake, and travel. Deputy Lee also enjoys running for exercise.
Dylan Lee was live in the studio with Deputy Carli Drayton during On Patrol: Live 01.20.23.