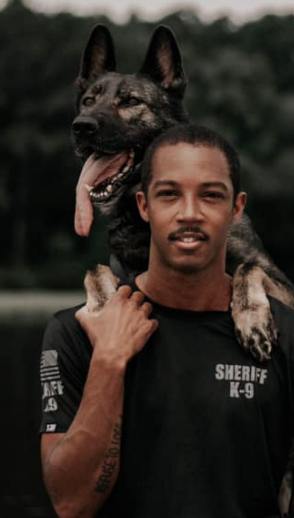 Deputy BJ Nelson is a corporal with the Berkeley County Sheriff's Office in South Carolina. Corporal Nelson first appeared in Episode 4 of On Patrol: Live Season 1. Corporal Nelson is a K9 officer and currently works with K9 Kai.
Corporal Nelson is a native of South Carolina and graduated from Summerville High School in 2010. Nelson was a Police Cadet with Summerville Police Department from 2007 until 2012. He then served with North Charleston Police Department as a Community Service Officer. In 2012 Nelson attended the South Carolina Criminal Justice Academy and was hired full-time by Summerville Police Department. While there, he served on their Bike Team, the Selective Enforcement Team, and Patrol. He was then hired by North Charleston Police Department in 2014 and served on Patrol.
Nelson joined the Berkeley County Sheriff's Office in January of 2018. He served on Patrol until he was moved to a specialized unit (COPS) and was soon promoted to Corporal in May 2018. He was then moved to the Narcotics Task Force and remained in that unit for 2.5 years. In June of 2021, Cpl. Nelson was reassigned to the K-9 unit. He continues to serve on that unit with his four-legged fur missile, Kai.